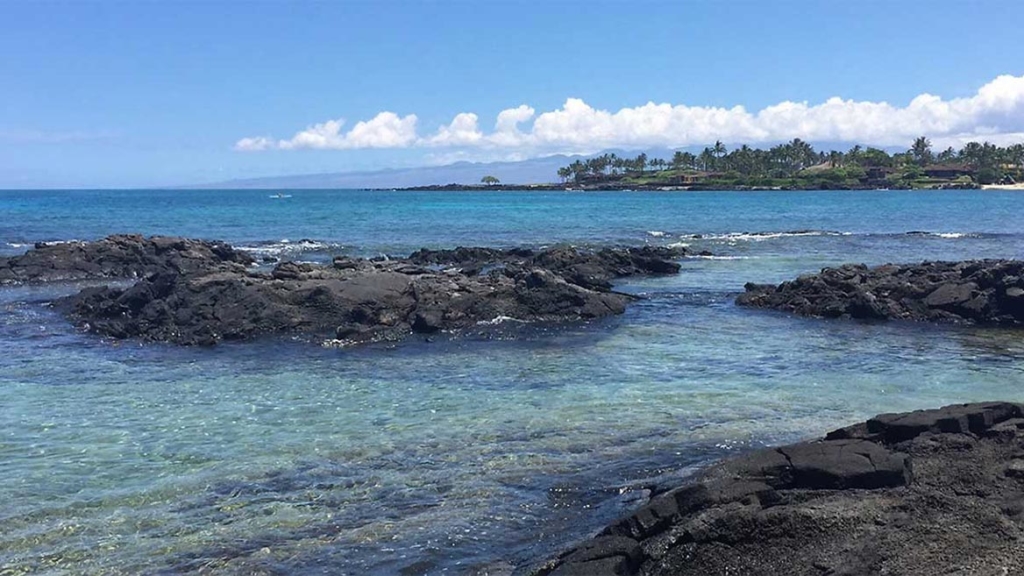 When it comes to luxury real estate in Hawaii, Kūki'o is in a class all its own. Often mistaken as a resort, this ultra-exclusive community seven miles north of Kona airport is actually a private equity beach and golf club. Unlike resorts on island, including adjoining Hualalai Resort, there is no hotel located within this secluded community. Membership to the Kūki'o Beach and Golf Club is by invitation only and as a private equity club, it is not open to the public.
Set amongst 1,100 acres of oceanfront property just south of Hualalai Resort, Kūki'o fronts two of the finest beaches along the Kona Coast: Uluweuweu and Kua Bays. A playground for Hawaiian royalty in days of old, Kūki'o is rich in natural beauty with coconut groves, anchialine ponds and lava tubes and outcroppings. Here sparkling white sand beaches, the warm ocean waters, stark black lava outcroppings and the lush green fairways provide a breathtaking backdrop for exceptional luxury living.
Within this ultra-exclusive community, there are three distinct areas: Kukio, Ka'upulehu, and Manini'owali. The Manini'owali community within Kūki'o features 97 home sites ranging in size from one-third to three acres. The Sports Complex is also located here with a myriad of activities for the whole family to enjoy.
Nestled between Manini'owali and Hualalai Resort the Kūki'o neighborhood features 143 home sites and 31 cottages. Most of the Beach and Golf Club's amenities are found within this part of the community, including the 10-hole short golf course, club house, dining pavilion, bar, and spa. Ka'upulehu is situated to the north of Hualalai Resort and includes 70 lots, several of which are oceanfront. Membership to Kūkiʻo Golf and Beach Club is included in some Kaʻūpūlehu home sites.
Price points within Kūki'o vary from $1 million to $19 million including condos, hales, villas, and custom home sites. You'll find a variety of home styles too from contemporary to Balinese-inspired and traditional.
Kūki'o Golf and Beach Club membership provides unrivaled amenities including use of the Tom Fazio-designed 18-hole course and 10-hole short course, as well as the members-only 13,000-square-foot Clubhouse with its fine dining, beach bar, water sports center and indoor/outdoor spa. The expert staff at Kūki'o's renowned Outdoor Pursuits program will assist you in a wide range of outdoor activities from sailing to surfing to kayaking and stand up paddleboarding.
Membership fees for Kūki'o Beach and Golf Club include an initial fee of $275,000, with annual dues of $57,000. Kūki'o Community Association dues are $18,480 annually with Kaʻūpūlehu Community Association dues running $16,000 annually. (All fees as of 2016.)
If you'd like to learn more about living in Kūki'o, contact Marco! He can help you find the ideal Kūki'o property to suit your lifestyle and needs.