This is a wonderful campground located inside Hawai'i Volcanoes National Park. There is no camping permit required, no reservations necessary and is an absolutely beautiful retreat for those wanting to camp in the park.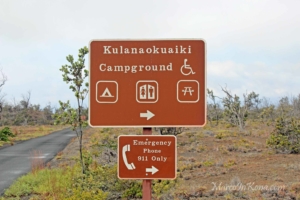 There are two campgrounds in the park, but I much prefer this one over the Nāmakanipaio campground site. I have camped in both, and the Kualanaokuaiki, 8 site campground is a much more private setting, where you can enjoy the peace and quiet of the park. Nāmakanipaio, has both drive in/hike in sites, but is located right off highway 11. This campground tends to be more occupied, and has less of a privacy feeling.
Kualanaokuaiki campground is located directly off Chain of Craters road, about 5 miles into Hililina Pali road, at an elevation of about 2700 feet.. Temperatures in the evenings can range in the 40s to 60s, make sure you are prepared for this. Having a good rain fly on your tent is also a good idea, as light showers can move in quickly.
There is no running water or electricity in the campground, but there is a vault type toilet on site. Be sure to bring what you need! Open fires are not allowed.
This is a beautiful location that is incredibly quite and peaceful, just what you need after a day of adventuring in Hawai'i volcanoes national park!
Enjoy your stay, and I hope you enjoy the campground as much as we did!